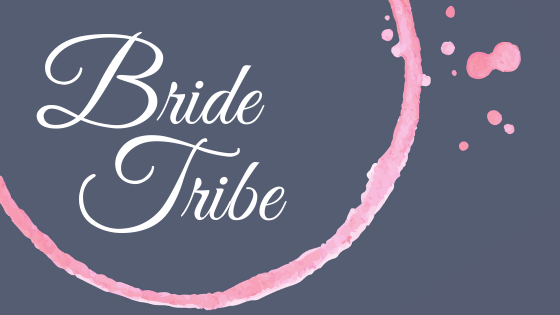 Your Bride Tribe will be made up of some of the most important people in your life. They will be there to support you during the planning stages, offering their thoughts and advise to help you as you go.
They will be with you on the morning of your wedding day, preparing you and getting ready alongside you, and even starting the celerbations early! They will also be there for you throughout the day in so many ways - and if they are anything like my Bridesmaids, they will be the first ones on the dance floor getting the party started!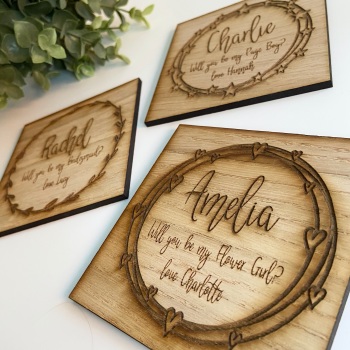 BRIDESMAID PROPOSAL
Many couples like to plan a special way to ask those extra special guests the big question... Will you be my Bridesmaid / Flower Girl / Page Boy?
Personalised gift boxes filled with some of their favourite things or some special treats is very popular. Postcards or gifts cards are a lovely addition to this but can also be used on their own too.
I create stunning engraved keepsakes from Oak Veneer. These set the tone of a luxe rustic wedding and make a lasting memory of the early stages of your planning.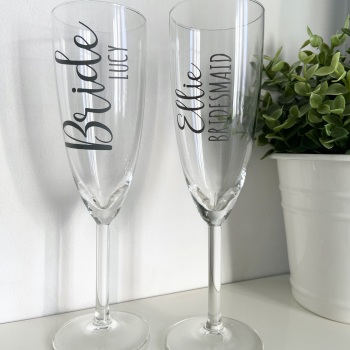 EARLY CELEBRATIONS
During the morning of preparations, or even the night before if you are spending it with your favourite girl gang, there are sure to be some early celebrations.
You may have surprised your Bride Tribe with some thank you gifts or even treated your bridal party to personalised glasses to mark the occasion and to remember whos drink is whos!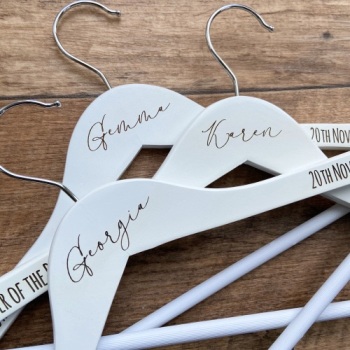 FINISHING TOUCHES
Another wonderful keepsake is having personalised hangers for those who have Bridesmaid dresses and Flower Girl dresses.
Don't forget one for yourself and the Mothers of the Bride & Groom too. Can't have anyone left out can we?!
All of my Bride Tribe ranges are available in a choice of fonts to tie in with your existing plans and overall style.
If you have something in mind that you cannot see online, pleased do get in touch. I may still be able to help!
The most important thing is to enjoy that precious time with those you love so dearly, and make memories that will last forever.

Amie x