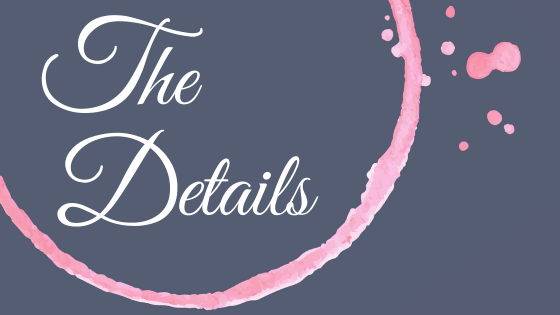 My last blog was all about the materials I work with to create the physical boards and signs. This week, we are getting down to the details - the finishing touches, the personalisation. The part that makes every piece different and unique.
I am also going to cover which of these finishes works best with which style of sign.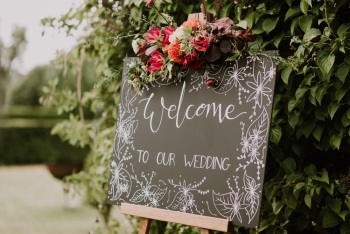 HANDWRITTEN
I write in a modern calligraphy style which offers a soft finish to the signage. The handwritten method can be used on any of the pieces but in my opinion, it is most suited to the ply, pine and chalkboard ranges. Having handwritten finish on your wood or chalkboard signage instantly adds that vintage, rustic and overall softer appearance.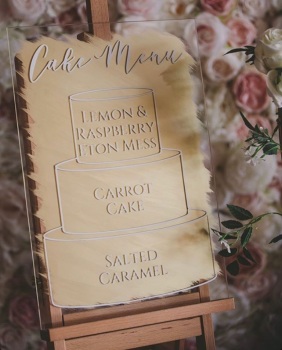 VINY
Vinyl lettering not only gives you a large range of colours and my standard fonts to choose from, but it also gives you the opportunity to have your signage completed in the same font as other pieces you may already have. For example, if you have used a particular font on your 'save the dates' and 'invitations', you may want to carry this style through to your signage pieces, and it may well be possible.
The vinyl provides a smooth, crisp and clean finish. It is perfectly suited to any of the acrylic styles and also works very well on the wooden pieces if you are looking for rustic signage with a modern twist.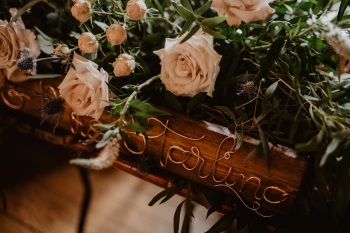 WIRE
I hand make the wire lettering from gold, silver, copper and black wire. Each letter and word is carefully bent into shape as place names, or applied to the signage boards.
Wire is the perfect addition to the pine and reclaimed pallet wood. It creates wonderful titles for your signage and makes stunning keepsake pieces, such as my Wood & Wire top table decor.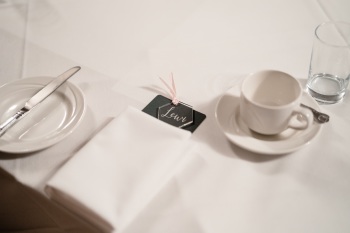 ENGRAVED
Clear acrylic can be engraved, resulting in a sleek, modern and super stylish range. This is popular for place settings but I have also created 'save the dates' in this way too - but more on those soon!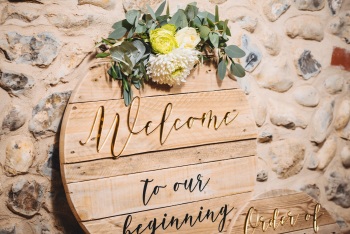 LASER CUT
Laser cut lettering is a product all in itself when it comes to the flower wall lettering or cake toppers that I make. But it is also a beautiful and striking way to add titles or detail to your signage.
Available in a huge choice of colours and fonts, it can create a real added 'wow' factor to your on the day signage.
The laser cut lettering looks striking on the acrylic range, but also works brilliantly on the wooden pieces too.
I hope this helps you narrow down the many options available. As always, please do let me know if you have any questions or ideas you would like to share with me.
Amie x