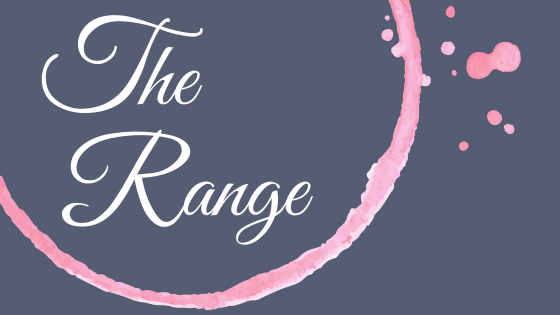 My three standard ranges include Wood, Acrylic & Chalkboard. Today, I am going to tell you a little more about each style. Next week, I will share more about the finishes I create and which is best suited to each of the below materials so be sure to check that out!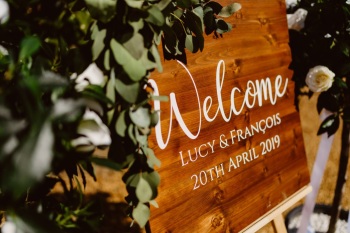 Let's start with the wooden style - This range is available in a choice of pine, ply and reclaimed pallet wood. Each offer a very different look and overall style, so it is very much a case of personal preference when choosing.
The PINE pieces are available in a huge range of sizes and provide a smooth finish with a little character showing in the stained and varnished wood. As well as the larger signage options, I create freestanding pieces suitable for table numbers, small signs and top table centre pieces.
PLY offers the same smooth finish but in a much more manufactured style. This gives the most modern finish within the wooden range.
RECLAIMED PALLET WOOD is by far the most rustic looking style. Mainly used in my round 'cog' pieces but also available in other sizes upon request. A great sustainble option too.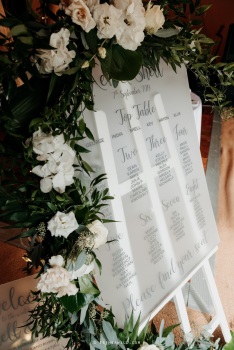 The acrylic range is extremely versatile and not just suited to a modern luxe wedding as you might think. Within this range I offer clear, frosted and painted back signage.
The CLEAR ACRYLIC has been a huge trend since 2016. It provides a great wow factor, but it is not always the most practical choice. When choosing your acrylic, try to picture where it will be positioned within your venue on the day. If clear acrylic has a busy background, the lettering detail can sometimes get a little lost. However, the alternatives will provide ways around this!
FROSTED ACRYLIC is a great alternative to clear. It almost blurs it's background, leaving a much more solid backing for the lettering to stand out, making it clearer for guests to see and read. Frosted acrylic has become far more popularthan clear over the last couple of years, both for it's beautoful finish but also for practicality reasons too.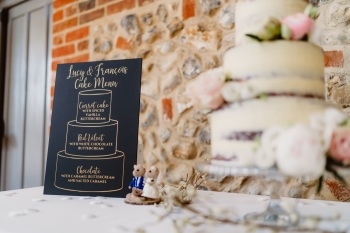 The PAINTED BACK ACRYLIC pieces are another great alternative to clear. Available in any colour combination, you can achieve the result of a solid colour acrylic with signage that fits in perfectly to your colour scheme. I offer a few designs when it comes to the painted back style too.
CHALKBOARDS are still very popular with couples looking for a rustic or vintage feel to their signage. I cut and hand paint all of the boards myself so they are available in a large ranges of sizes from place names/tags to huge table plans and statement pieces of signage.
Each of the above materials are best suited to one or two of the finishes I offer. I will go through each of these in detail next weekf or you!


Amie x