Why have Signage?
Posted on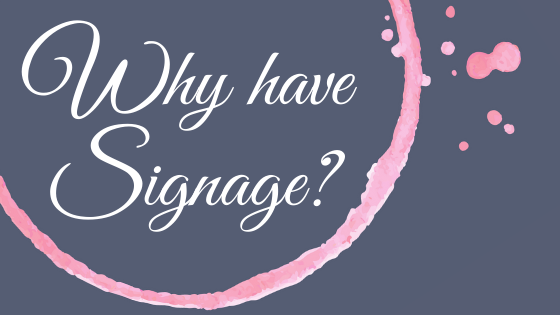 Your invites have been sent and the RSVP's are flooding in from your friends and family, all excited to celebrate your wedding day with you. So you think you can tick 'stationery' off your to do list? Not quite...
Wedding stationery and signage still has a very important part to play on the day and I would like to share some tips and tricks with you to get the most out of these finishing touches.
Let's start with the most obvious - the wedding breakfast stationery. Once you know your final guest list, it is time to start planning the seating arrangements. The table plan will tell your guests which table number/name they will be sat at and can also be designed in such a way that the plan acts as a map of the room set up. You will then need the table numbers or names clearly displayed on each table with place names on the individual settings if needed.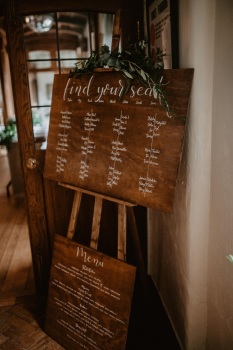 SAVING: If you would like to include menus on the table, it is not always necessary to order one per person. I advise my guests to consider two per table or have one large menu by the table plan.
TIP: Choose place names that can double up as a keepsake for your guests - this eliminates any requirement for wedding favours and reduces the amount of items on the table.
Welcome Signs are hugely popular and can make a wonderful keepsake to be displayed in your home after the wedding. Lots of couples choose to have 'Welcome' on the board, but with just your names and a date, it can be kept, displayed and cherished forever in your home.
The day itself will be busy and the time just flies! Help your guests navigate the day with an Order of Events board and directional signs where needed.
TIP: Ask your wedding co-ordinator or a member of your wedding party to move the Welcome sign and Order of Events sign around the venue. Your Welcome sign and Order of the Day would work well at the entrance as your guests arrive for the ceremony. Once the 'I do's' have been said, the welcome sign could be moved to the entrance of the drinks reception or wedding breakfast and the order of the day in the bar area or a busy area within the venue making sure evening guests will see it also.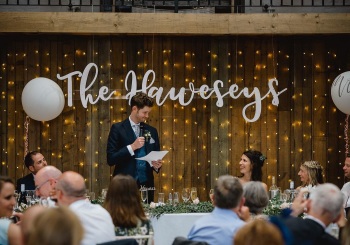 Smaller signage is a wonderful way to add personality into the decor. There are many smaller pieces that can get forgotten and a little sign can make all the difference. Cake menus, if having a range of flavours, guest books signs, bar menu, special cocktail board, memory pieces and so much more!
TIP: If you would like your signage to be created from different materials and in different designs, consider keeping the lettering or font style consistent to tie everything in.
Finally personalised banners and statement pieces of signage are a great way to add more fun decor and can act as brilliant backdrops for the top table or for your guests photo snaps! Share your ideas with me and let's see what we can come up with together.
Amie x